Selecting pajamas to the street is also a favorite fashion trend in some Asian countries today.
---
Have you ever worn pajamas down the street? This fashion trend has now followed the flow of time but more modern, more innovative, not only is the outfit in the bedroom anymore.
Walking around an Instagram of modern girls, a strange streetwear style is found: Tropical Pajamas. Already familiar with the spacious sets of clothes worn by women, pajamas are always present in girls clothes. But when did people start to love wearing pajamas to the city to enjoy shopping or gathering friends?
The fashion development in the world has never excluded these pajamas. Over time, it has been completely changed from materials to designs. The most creative ideas of designers in the world are included in the pajamas collection as a spectacular makeover. Now getting to see girls in pajamas is not too strange, it has even become a popular trend around the world.
The trend of minimalism has always been strong in recent years, people prefer simple items from color to style, but it does not become blurred. With 2 colors suitable for autumn are coffee and moss green, this Basic Pajama model has a modern design that is not cumbersome but totally attractive.
This is considered a trendy fashion style because even though it is pajamas, just cleverly tie the waistband, mix high heels and a suitable handbag, you have a high-class fashion set to go to coffee with friends or hang out shopping already.
In addition to the smooth silk, the collection also offers attractive pajamas with unique and trendy Tropical patterns. The weather of changing season in autumn makes the girls love more than the light and floating clothes in the wind. Peony motifs are also delicate, not too distracting but still striking.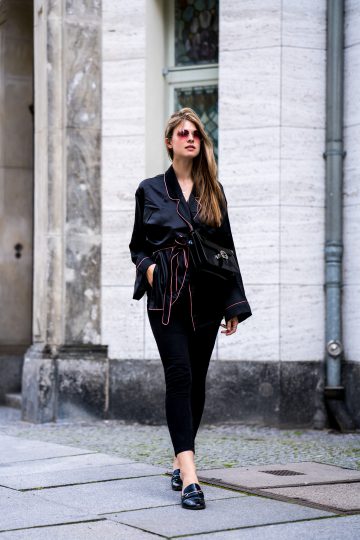 The tropical motifs included in the collection this time do not bring the feeling of "cheesy" but rather a bit classical and gentle. On chilly days, the girls just need to wear a blazer or wool coat gently matching the tone tone can confidently step out the road. Especially dark or black colors can help you improve the elegance of the set.
Following the current trend of orange-yellow, pajamas are designed with striking and unique tropical leaf motifs. Buckle down with a small orange handbag and confidently down the street.