Making Haute Couture week of the Spring and Summer season 2019, please point 7 collections to leave the strongest impression.
---
Chanel
Karl Lagerfeld – a big fan of the village of Chanel, was tired of fatigue, being one of the most regretful things about Haute Couture week. However, under the magic hand of the silver-haired mogul, the French fad – brought the French Riviera to Paris, turning Grand Palais into are sort, complete with lavish views of Italian villas, palm trees and pool. The upscale life theme of the collection has been reinforced by the curtain: Abrightly colored bridal swimsuit, complete with swimming caps and veils. Extremely luxurious!
Valentino
With Valentino, Pierpaolo Piccioli made a strong impression using more than 40 black models – including Naomi Campbell, a supermodel who returned to the Italian runway for the first time in 14 years.She broke the long-standing conception of beauty and elegance when performing Haute Couture.
The creative shape and rich colors of the collection seem to prove they were created for the red carpet. Their beauty was enough to make Céline Dion shed tears in the front row.
Givenchy
Clare Waight Keller, the British designer behind the Duchess of Sussex's wedding dress (Prince Harry's wife) gave a perfect model of the sophistication of chunks and dress patterns, combining skills of tailors and artisans in garment factories to produce complex structured garments. She surprised the audience with the combination of rubber latex (not usually in couture) and lacquer lace, as well as couture-like details like giant silkbows.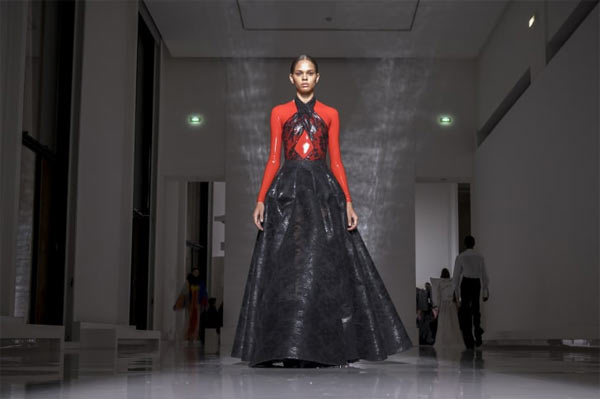 This season, Dutch designer Iris Van Herpen was inspired by the beauty of precious stones and clouds. Highlights include the photo-cut and cloud-like organza of artist Kim Keever; The skirt is shaped like butterflies; and a dress seems to float on the body through a sophisticated optical illusion.
Balmain
Over the weekend, Olivier Roustrial revealed his first couture collection for Balmain. This is the first Couture set of this brand ondisplay for 16 years.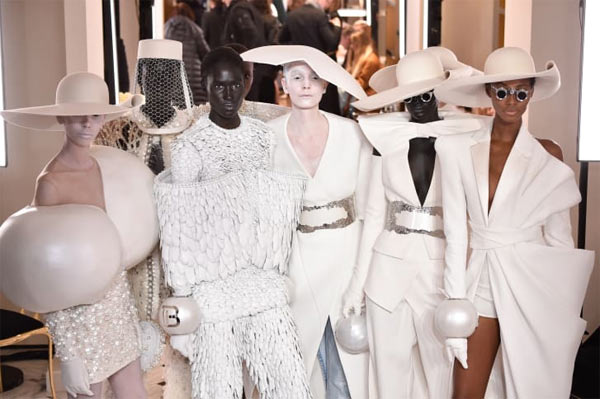 In fact, Roustrial's collection includes many white outfits, and the whole collection scores more than a million Swarovski crystals, pearls, stones and beads. Leaving behind the constraints of trade trends and factors, Roustrial commented that Haute Couture allows designers to luxury in a minute and get drunk in an unobstructed creative moment.
Dior
Dior built a circus tent in the Musée Rodin garden and invited a group of acrobatic artists to perform while the catwalk performance was taking place.
Maria Grazia Chiuri, creative director, proved a patient and skillful creator and manager by mixing costumes inspired by clowns with red carpet style dresses.